Home
A changed you: a changed surrounding
A changed you: a changed surrounding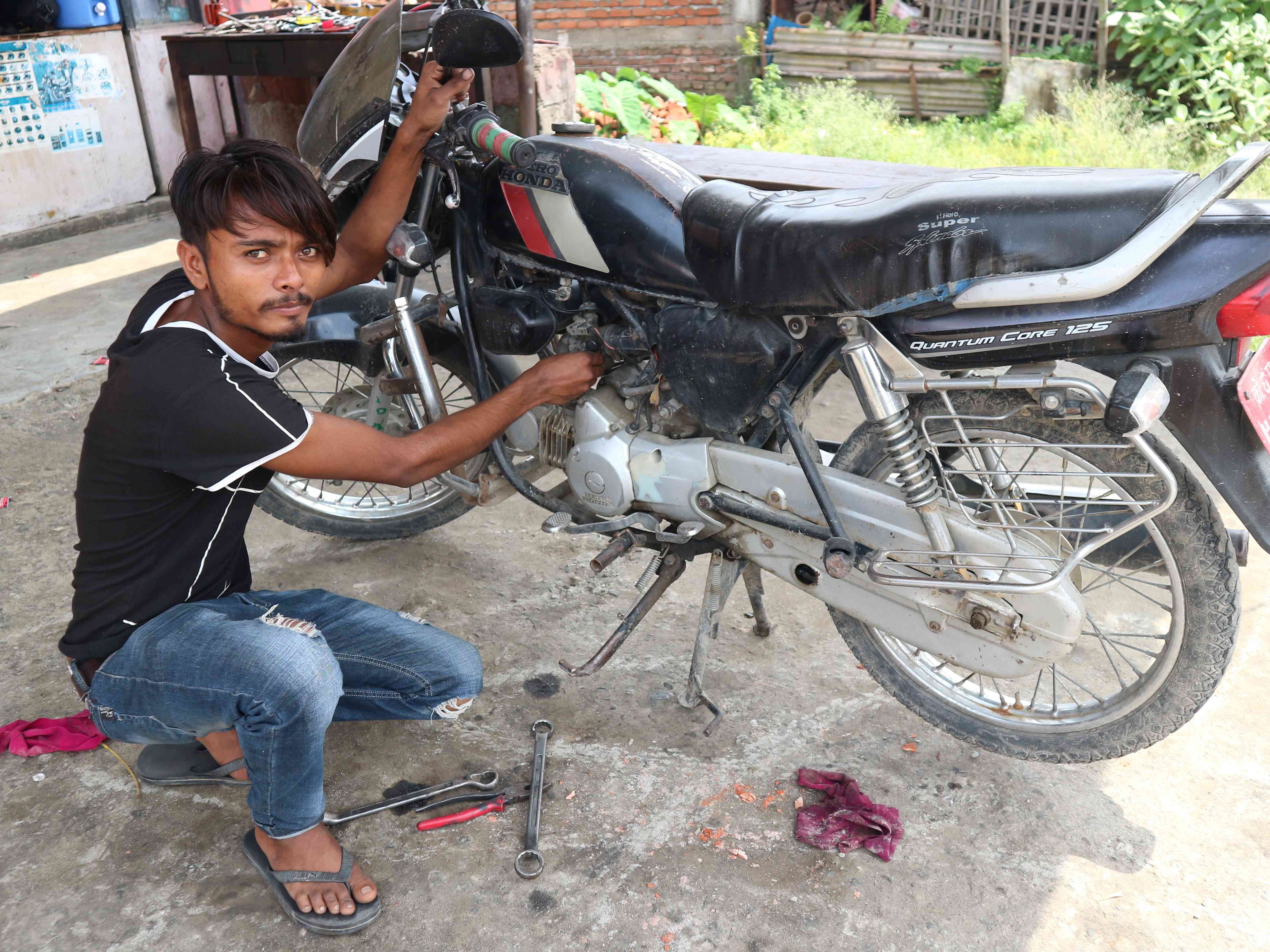 Name: MD Suleman
District: Sunsari
Training Name: OJT in Professional Motorcycle Mechanic
Training Start Date: 10th January, 2018
Training Duration: 10 months (1696 hrs. on-the job training)
Age: 22 years old
MD Suleman worked as a helper at a motorcycle workshop to support his family of seven. His family was reliant on agriculture as the sole source of income but the annual yield was never enough to cover their expenses. Suleman, who was always short of money, had to drop out of school after grade 9 to start earning for his family.
When he was working as a helper, he felt that he did not receive a fair wage for his hard work and sometimes even that amount was deducted on grounds of small mistakes. Suleman was frustrated because neither the owner of the workshop taught him technical skills nor gave him an opportunity to upscale on his own.
One day, through a villager, he came to know about the training for Professional Motorcycle Mechanics funded by ENSSURE in partnership with Manmohan Memorial Polytechnic, Biratnagar. Since the program was fully funded and also gave an opportunity to earn in between, he decided to go for it.
The comprehensive on-the-job training included learning various skills like repairing motorcycle engines, batteries, lighting systems, clutch, gears, servicing systems, brake control, fuel oil supply, etc. His training lasted for 72 days at Laxmi Trading House (Hero) Pvt. Ltd., Biratnagar. Suleman was an inquisitive trainee. His supervisors at work were very supportive and patient with him. This boosted his confidence a lot. Along with technical training, he also learned soft skills like communication, entrepreneurship, and gender issues as a part of the program.
Suleman has passed the skill test Level 2 and is currently working as a motorcycle technician at the same place where he had worked as a helper before the training. He charges Rs. 500 per motorcycle for his service. The workshop has a good flow of customers on a daily basis and thus, Suleman earns a good amount every month as a mechanic. Mahamad Kasim, his employer is also satisfied with his work. Previously when he worked as a helper, Suleman did not have any skills and was not contributing much to the workshop. But now customers come to the shop specifically looking for Suleman and hence Mr. Kasim considers him his star employee.
Suleman's father is equally delighted to see him make a progress in life and assume the responsibility of the breadwinner. Both Suleman and his father dream of having their own motorcycle workshop in the future. Suleman in particular hopes to be able to train and provide employment to youths like him through the workshop. He is planning to appear for the Level 3 skill test soon.