Home
Actors and Approaches
Actors and Approaches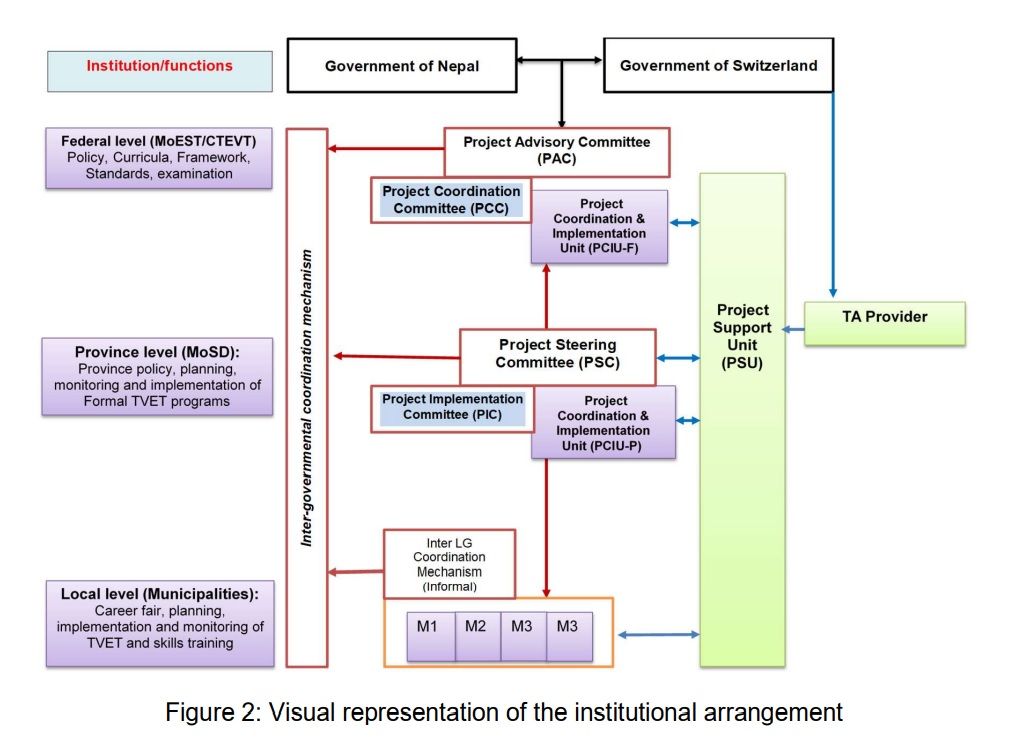 The main stakeholders have been grouped according to similar interests and similar functions and responsibilities as follows:
1. Federal Level public stakeholders
MoEST is responsible for legal and policy guidelines in education, including TVET at the Federal Level.
CTEVT is currently the apex policy body for TVET at the Federal Level. It is responsible for national TVET policies, curriculum framework and standards; examination, skill testing and certification; accreditation of TVET providers and their courses; and qualification of instructors.
Curriculum Division of CTEVT is responsible for developing all types of curricula for TVET for occupations required by industry in close collaboration with sector skill committees and sectoral associations.
Examination Controller is responsible for final assessment and certification that is nationally standardised and approved.
National Skill Testing Board (NSTB) is responsible for the National competency standards and vocational qualification packages at different levels of National Vocational Qualification Framework (NVQF).
2. Province Level public stakeholders
The Planning Commission defines the development vision for the province and sets strategic priorities for achieving this vision. It guides the provincial government in TVET development by defining a long-term vision with medium-term targets and strategies.
MoSD is responsible for TVET policy formulation and implementation in the provinces. The ministry will institutionalise TVET at the provincial level by developing the necessary policy and legal frameworks, implementing the project on behalf of the Province Government; hosting the project implementation unit, directly managing the apprenticeship programme, and facilitating and monitoring the skill development and career guidance programme implemented by Local Governments.
3. Local level public stakeholders
Local Governments are responsible for managing education up to the secondary level, including skill development, planning and delivery of TVET, maintenance of the database on employment/unemployment, and scholarship management for students/trainees. They own and manage community schools, including the TECS community schools. They will implement skill training with OJT and the career guidance programme.
4. Other stakeholders
Sector Skill Committee/ Council (SSC) are the representatives of the business and industries who will guide and contribute in industries´ skill demands; setting the standards and qualifications for occupational skills (NOSS); establishing bases for skills classification, testing and certification as per the NVQF; conducting apprenticeship programmes; and facilitating Dual-VET courses.
Public and private (including corporate) training providers will offer skills training of varied types and duration. These include but are not limited to off-the-job systematic courses for apprenticeship, training with OJT, training to enhance the skills of current workers or returnee migrants, and even the management of courses for company owners or senior staff.
5. Key private sector institutions
Private sector and industry associations are member-based organization comprising private companies. They can be found at all three levels. Their role is to influence policy, coordinate with the provincial and local levels, support the creation of national standards and a curriculum framework, and represent the private sector at different tiers of the government. Further, their roles is to map industrial skills and identify demand; support the selection of apprentices, conduct examinations and testing, represent the private sector in TVET forums, coordinate with local associations and member companies, set up a training unit that facilitates communication between companies and schools, establish a database on skills demand and supply at the provincial level using data acquired at the local level, provide exposure for TVET trainers in industries, prepare industry practitioners to serve as in-company trainers, facilitate industry-institute interaction; and contribute to the monitoring of training.
Professional associations - the Plumbers Association, Chef Association and many others work to advance the common interest of their members. They play an important role in providing input for occupational standards and curricula, offer a major source of in-company trainers, and influence industry management in occupational policies.
Joint Trade Union Coordination Centre (JTUCC) is a national common trade union forum created to jointly address workers' issues, develop common policies and coordinate between different trade unions. The JTUCC will facilitate apprentice placement in industry-based training and later in employment.
Other projects and donors operating in the TVET sector. Aside from ENSSURE, six major TVET projects are being implemented in Nepal. These are IFAD´s Samriddhi Project, the EU´s TVET PP, DFID´s SEEP, the SaMi, Enhanced Vocational Education and Training (EVENT) and the NVQS. The Improved Access to Skills for Productive Employment Project (IASPEP), funded by the Asian Development Bank, is in the pipeline.