Home
Management Structure
Management Structure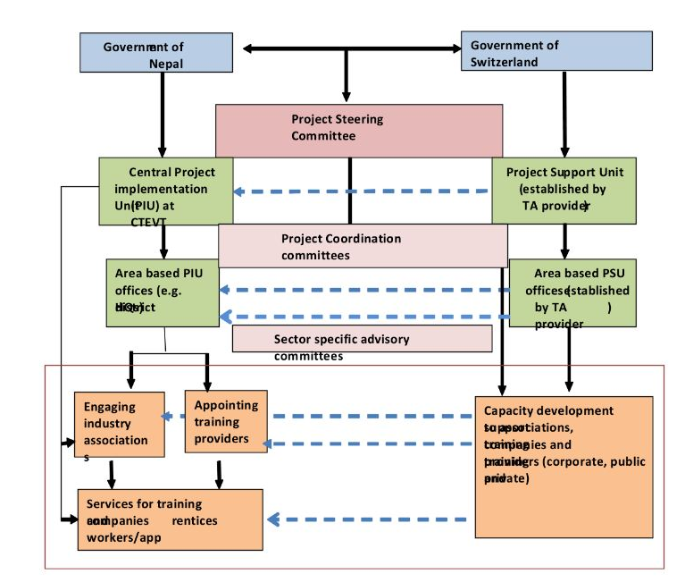 The following bodies will engage in the project management:
1. Project Steering Committee (PSC)
The PSC will take strategic decisions and approve financial commitments, review progress and address critical situations.
2. Project Coordination Committee (PCC)
The PCCs will ensure coordination between PIU and PSU. At the central level, the PCC will be led by the PIU manager and at the local level, it will be led by the CTEVT Regional Director.
3. Sector Skills Committee
Advisory committee (appointed by the PSC) includes experts from sector-specific backgrounds to support deliberations and decisions for the project implementation.
4. Project Implementation Unit
The direct implementation partner is CTEVT which manages the Project Implementation Unit (PIU), acts as a regulator, facilitates course design and supports the training providers and the industries.
5. Project Support Unit
Technical assistance to ENSSURE is provided by Helvetas Nepal which manages the Project Support Unit (PSU). The PSU provides technical support to the PIU for the effective implementation of the project activities including the monitoring of training courses.
6. Area-based PIU and PSU
Depending on the areas chosen for project interventions, both PIU and PSU will set up local offices. At this level, the project interacts with regional and local governmental bodies and with companies, trainees and training providers.