Home
A Tea Boy Turned Restaurant Owner
A Tea Boy Turned Restaurant Owner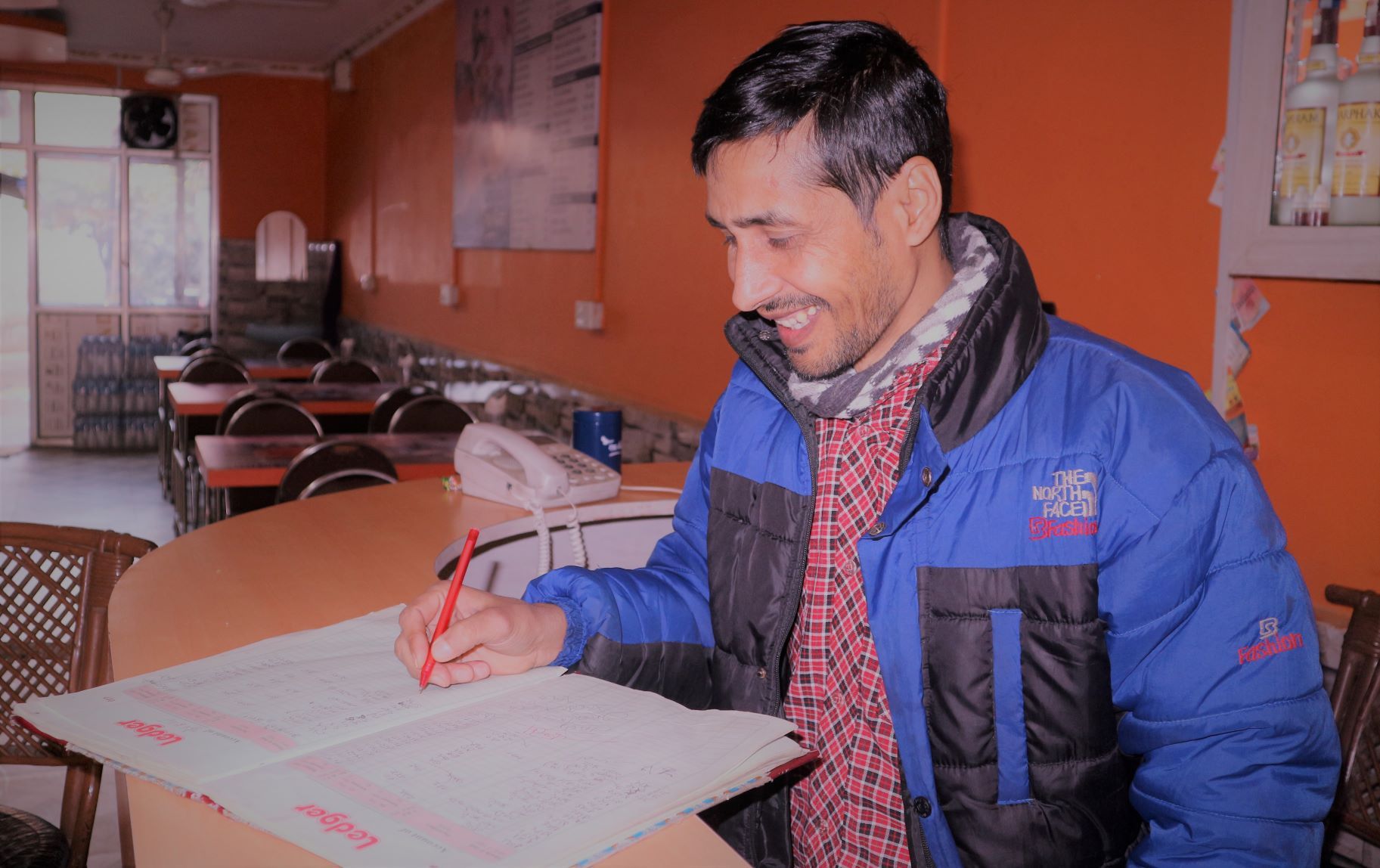 Name: Dinesh Prasad Dahal
District: Chitwan
Training Name: OJT in Professional Cook
Training Start Date:
Training Duration: 10 months (1696 hrs. on-the job training)
Age: 36 years old
Two years ago, Dinesh Prasad Dahal returned to his hometown after working as a tea boy at a construction company in Qatar for seven years. He tried his hands at various jobs upon returning but was not able to find a good one. He reared cows and sold milk while running a tea shop at the same time to support his family of fourteen members. But the income from the business was not enough to cover their expenses. So eventually, he shut the business and started looking for a job. While doing so, he came across Professional Cook training advertised in the Chitwan Post Daily.
When Dinesh learnt about the on-the-job training on Professional Cook offered free of cost by Hamro Prashikhan Sewa Talim Kendra and supported by the ENSSURE project he was determined to apply. He filled out the application forms but was dubious about being selected when he saw the huge number of applicants. A few days later Dinesh learned that he had been selected for the training. This, Dinesh mentions, was the turning point in his life.
Though the training was free of cost, Dinesh had to manage his own accommodation and food. This was a problem for him as he lived far away from the training venue. His brother-in-law came to his rescue when he agreed to provide him with free boarding and lodging in exchange for his work at his restaurant.
Dinesh worked extremely hard and successfully completed the on-the-job training at Aakash Tandoori, Bharatpur Chitwan. As luck would have it, his brother-in-law put his restaurant on sale since he was migrating abroad. Dinesh saw this as an opportunity to realize his dream of owning his own restaurant but was not sure of how he would manage the finances. With the support and encouragement from his family and relatives, he managed to acquire a loan of NPR 1.5 million from Agriculture Development Bank and was able to buy the restaurant.
Dinesh is now a proud owner of Himshikhar Tandoori Restaurant Cottage and Bar, where he was an employee a few months ago. He has employed five full-time workers in his restaurant. The restaurant makes about Rs, 1,25,000 in a month which is enough to cover the staff salary, rental charges, and other expenses. He is saving about Rs. 15,000 a month after paying off the interest, household expenses, and school fees for his children.
He is now in the process of revamping his menu by adding about fifty more items. Dinesh has plans to expand his restaurant businesses around Chitwan and neighboring districts in the future.