Dreams do come true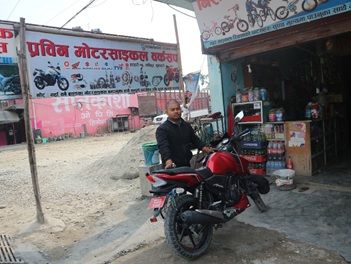 Name: Prabin Kumar Chaudhary
District: Sunsari
Training Name: OJT in Professional Motorcycle Mechanic
Training Start Date: 20th May, 2018
Training Duration: 10 months (1696 hrs. on-the job training)
Age: 22 years
Prabin Kumar Chaudhary, the son of a cycle mechanic, had a dream of becoming a motorcycle mechanic from his childhood. His father had a small cycle repair center but his business couldn't support the family's expenses. While it was enough to cover their daily necessities, his father could not afford a higher education so Prabin had to drop out of school after grade 10. His dream took a shape when he applied to Level-II Training with OJT on the Professional Motorcycle Mechanic course funded by ENSSURE.
Prabin came to know about the training through an acquaintance in his village and immediately joined the course at the Center for Skill Development Career Counselling (CSDCC) office where he completed 3.5 months of institution-based training. After that, he started working at TVS Paras Auto Mobile Pvt. Ltd. in Itaharui as a trainee.
During the on-the-job training, he got Rs 50 rupees per day as a stipend. This was only enough to cover his transportation cost. But Prabin was not waivered by this and continued to diligently work. Within three months the company raised his stipend and also offered him a full-time job with an attractive salary. After working for a while, the company also offered him the position of a senior mechanic but Prabin wanted to do something of his own so he set up his own motorcycle workshop in his hometown.
Prabin He started the workshop with an initial investment of Rs. 50,000. He makes a net profit of Rs 18,000 per month and manages to save a major chunk of it. He has already passed the Level 2 skill test and is preparing for Level 3.
Everyone in his family, especially his father is proud of Prabin and his achievements. the community also praises his work and dedication. Jitendra Shah, one of his regular clients, said in an interview, "I always get my bike serviced in his workshop. He is a skilled, hardworking, and trustable mechanic,".
Prabin recalls that if he hadn't taken the training and started something of his own, he would probably have had to go to a foreign country as a migrant laborer to support his family. Instead, he is doing very well in his life and is also funding higher education for his elder sister. He plans to expand his workshop and generate more employment in his village so that nobody has to leave their family and go abroad for work.