Home
Hobby as Career: A secret to happiness
Hobby as Career: A secret to happiness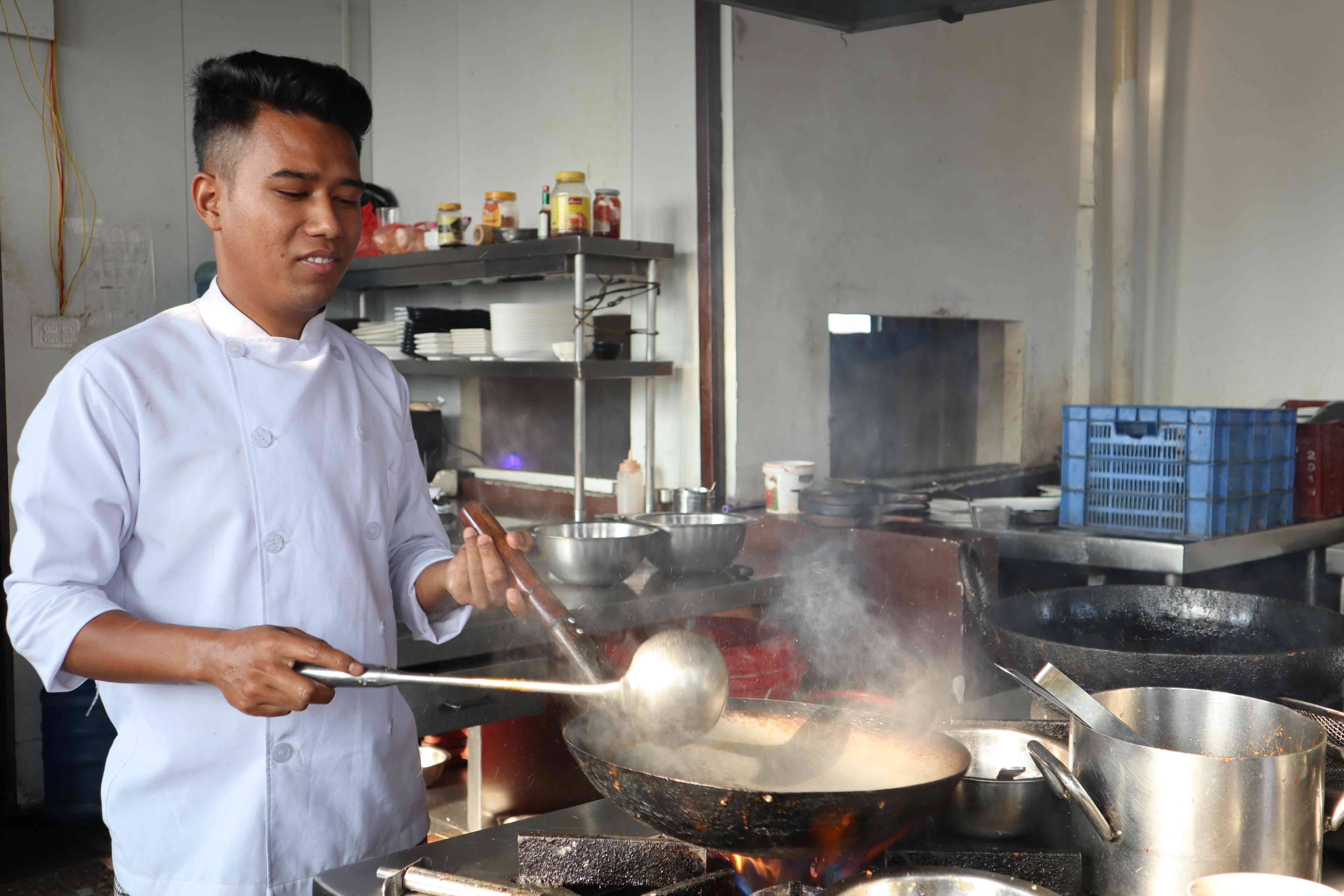 Name: Abinaya Bishunkhe
District: Kathmandu
Training Name: OJT in Professional Cook
Training Start Date:
Training Duration: 10 months (1696 hrs. on-the job training)
Age: 24 years old
Abinaya Bishunkhe enjoyed cooking for his mother when she was busy outdoors. This soon turned into a useful hobby, and eventually a career goal for him.
Abinaya had just begun high school in hotel management when his father got into an accident that injured him in such a way that he could not continue his work as a shoemaker. Left with little choices, Bishunkhe began looking for job opportunities and started working as a waiter in Pokhara. But at heart, he still wanted to complete his education in hotel management.
He learned about Level 2 On-the-Job Training in Professional Chef funded by ENSSURE project while going through a newspaper advertisement published by the Global Institute of Hotel Management, Baneshwor. Coincidentally, it was the institute where he had received training as a waiter. As this was a fully funded course with also an opportunity to earn while learning, he immediately left for Kathmandu to apply for the course.
He underwent the training with dedication and thoroughly enjoyed his work during his On-the-Job Training at the Hotel Hyatt Regency, Bouddha. He got a chance to work in the hotel's main kitchen where he would prepare Indian, continental, and local cuisines. The learning experience in both the institute and the reputed hotel gave him immense confidence.
He did not have to remain idle after graduating from the institute, as he was immediately invited by one of his acquaintances to work in a restaurant. Within 15 days in the restaurant as a cook, he was offered the position of Commis II Chef in another restaurant, Café Scape, New Baneshwor.
Currently, he earns a basic salary of NPR 12,000.00 and an additional NPR 5000.00 as an allowance. His salary provides financial support to the family and also covers the education expenses of his younger brother. His brother is now planning to go abroad for further studies.
While life is not smooth for him, it has gotten better with combined earnings from his job, his mother's income from the labor work, and his father's income from a small tea shop which he opened after recovering from the injury.
Abinaya wants to open a standard restaurant in the future. "I have already obtained the level 2 certificate. The certificate has great value in foreign markets, like Dubai. But I want to remain closer to my family even if the income is not as high as outside the country. For now, I will continue to learn and improve my skills", he says.
Abinaya is certain that the kitchen is where his heart is so he wants to pursue further training in and study opportunity in this sector in the future. He is planning to appear for a higher-skill test in a year.