Home
Job will eventually find you
Job will eventually find you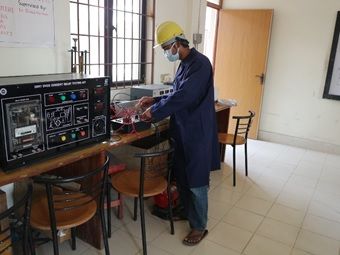 Name: Karna Bahadur BK
District: Jajarkot
Training Name: Dual VET-Apprenticeship in Electrical engineering
Training Start Date: 21st November, 2019
Training Duration: 24 months
Age: 22 years old
Karna Bahadur BK could not continue his studies beyond grade 10 because of financial challenges. His family of eleven members relied on agriculture for a living and could hardly meet their ends. In fact, even while he was in school, Karna had to take a break and go to work in India for a few years to support his family. He returned with the hope to complete his schooling so that he can get better job opportunities. Fortunately, soon after he completed grade 10, one of his acquaintances in the village informed him about the 24-month Dual VET-Apprenticeship pre-diploma in Electrical Engineering funded by ENSSURE project. He immediately applied to this course and today has become a sought-after electrician in his village.
Karna completed 3.5 months of institution-based training from Manmohan Memorial Polytechnic and was enrolled as an apprentice at Pashupati Seal Pack Pvt. Ltd. after that. He worked on various skill sets including industrial wiring, motor rewinding, and electrical machine operation during his apprenticeship. Karna performed exceptionally in this period and was also offered a full-time job at the end of it. He acknowledges the support of his supervisor- Mr. Salim Miya on this success.
In his own words, Karna says, "If you have skills, you don't have to search for a job. The job will find you". Karna has already recommended two boys from his village to this program and they have already commenced it. He aspires to share the acquired skills and knowledge from this program with those interested in his village so that nobody has to give up their dreams and leave their homes to go to India for work. He believes having skills equips people to get better jobs or be self-employed and in turn helps to lead a better life. He is currently preparing himself to apply for a government job at Nepal Electricity Authority (NEA).