Home
Redefining gender roles
Redefining gender roles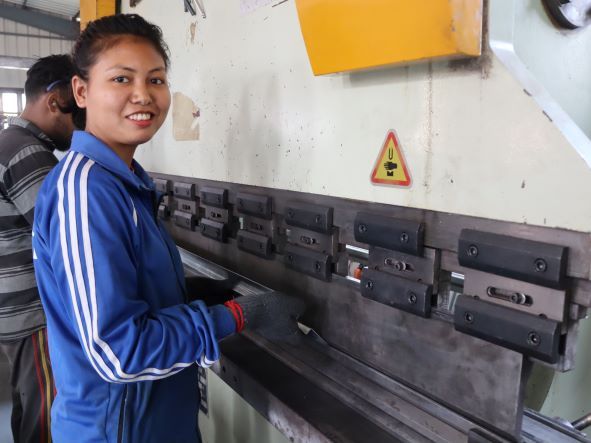 Name: Manju Dahit
District: Bardiya
Training Name: Dual VET-Apprenticeship in Mechanical Engineering
Training Start Date: 20th September, 2018
Training Duration: 24 months
Manju Dahit started working as an apprentice at SH Steel Udhyog where women were initially only hired for less demanding roles such as sewing jobs. She was among the group of first female apprentices to do heavy work such as welding, bending, working with heavy mechanical equipment, etc. which were otherwise deemed as "jobs for men". She is now the leader in the bending machine section and has set an example among both male and female coworkers.
Manju comes from a family that struggled to meet their ends. Most of her family members are involved in subsistence farming while her elder brother works as a welding labor. Although she aspired to build a career and make a name for herself, her family could not afford higher education for her. Hence, when she came to know of a fully funded course in mechanical engineering through an awareness program, she decided to apply against all the odds. Her parents had initially objected to her decision since no woman in their community had ventured into the mechanical industry. In fact, she was also hesitant to participate for the same reason but the grit to prove herself prodded her to continue.
The journey to where Manju is today was definitely not smooth. Initially, she felt awkward and sometimes even scared to perform roles assigned to her. She also struggled with the lack of reading materials related to her curriculum. Furthermore, sometimes was confused when she found differences between the content taught in classes and actual fieldwork practices. Fortunately, she got along with other colleagues at the factory who helped her understand her roles better and execute them properly. The in-company trainer was also equally helpful and comforting. Manju started with a relatively safe task such as a paint job and then gradually moved to more strenuous ones like welding and drilling. In no time, she rose to be the leader of the bending machine section.
Manju often compares herself with her elder brother who is working in a similar field. While her brother learnt this skill informally and has to look for jobs, she has a strong knowledge in the field and a recognized certificate to back it up. She recently completed her skill test and was offered a job at the company. She not only supports herself but also her family to pay off their debts and cover their household expenses. She has set an example not only within her family but also in her community. In fact, her younger brother has recently applied for the same training while several other girls from her community have done the same. Manju aspires to set up her own factory in her locality in the future and has already started saving up for it monthly.