Story of Grit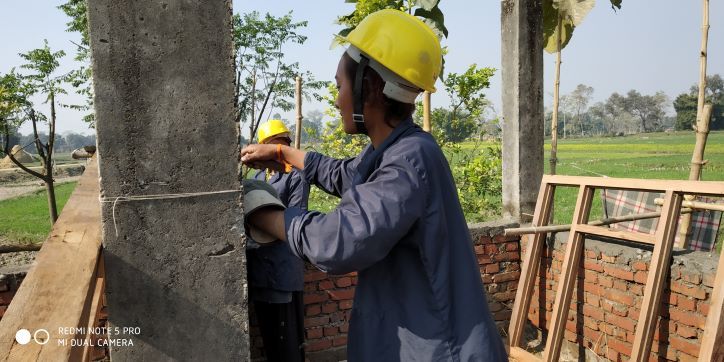 Name: Sapana Chaudhary
District: Bardiya
Training Name: OJT in Mason
Training Start Date: 6th June 2018
Training Duration: 10 months (1696 hrs. on-the job training)
Age: 21 years old
Sapana Chaudhary grew up watching women in her village follow their husbands to fields and work as laborers. She had pretty much convinced herself that all women share a similar fate. She had never imagined that someday she would train herself to be a Mason and work at construction sites on her own accord. Today, Sapana is self-reliant with her stable income and is working shoulder to shoulder with her male counterparts setting an example for other women in her community.
Sapana was a diligent student at her school but found subjects like Maths and Science tough. Therefore, she had taken Education as her major in high school but was uncertain as to whether the studies would lead her to any meaningful career. However, before she could complete her schooling she realized that she can build a better career with a technical education and a skill on hand. Her family was equally supportive of this idea. In fact, it was her father who informed her about the Level II Training with OJT in Professional Masonry funded by ENSSURE project.
Once she started her on-the-job training, the contractor was paying her NPR 400 a day. The income during OJT was not something she had expected so she was already happy to earn even while she was still a trainee.
Now, Sapana has already passed her skill test and is a certified mason. The credentials have helped her get jobs easily in a male-dominated field. Although the wage is low in rural areas, she is satisfied just to get a chance to work. The daily wage for women laborers is actually about Rs. 100-200 lower than that of men but Sapana is hopeful that with more women joining the workforce, this situation will change gradually. She feels relatively well off with her current income.
Sapana dreams to migrate to Kathmandu for work because the wage there is higher than what is given in her village. She is hoping to work with her uncle and aunt who are in a similar field of work in Kathmandu. She is confident that with her skills, certification, and experience, she can make a good living out of Masonry in the capital city.