Home
Story of guardianless chef
Story of guardianless chef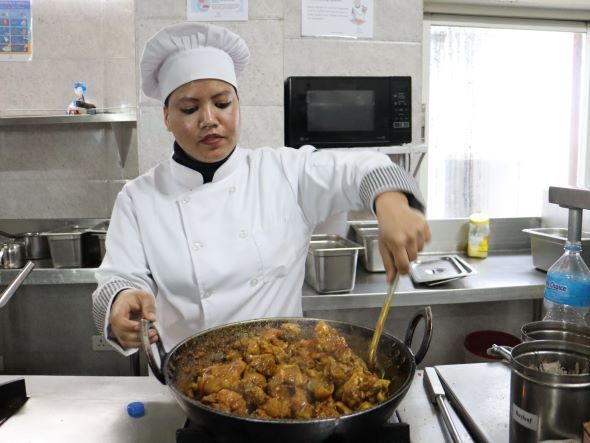 Name: Sapana Shrestha
District: Makwanpur
Training Name: OJT in Professional Cook
Training Start Date: 2009
Training Duration: 10 months (1696 hrs. on-the job training)
Age:
Ever since her father passed away, Sapana has been taking care of her family on her own accord. But the journey has not been smooth. Without any formal degree or technical qualifications, she had been hopping job after jobs working at a nominal wage. However, despite the dissatisfaction, she kept going as her family entirely depended on her for a living. She was constantly worried because of the financial challenges and job insecurity.
In a good turn of events, she came to know about the Level-II On-the-Job Traning Course in Professional Cook through an awareness program. She thought of this as a good opportunity as the training would help her become certified in an on-demand skill and also had prospects of earning while learning. So, with careful consideration, she applied and got herself enrolled in the course.
She attended 6 months of theoretical classes at the institute and joined Hotel Samana, Hetauda for 3 months of on-the-job training. Although the training was free, Sapana had to cover the food and accommodation expenses herself. This definitely strained her financial condition but she was some how able to manage and diligently participate in the program. Upon completion of the training, she was offered a job at the same hotel. This helped turn her life around and run the household smoothly.
She began her career at Hotel Samana with a salary of Rs. 8,000 per month and some benefits. Three years down the line, she now earns Rs. 20,000 per month including company benefits. She also gets her meals from the hotel during duty hours. She is now looking forward to taking the Level 3 skill test for Professional Cook and starting her own business. She has already been saving up for the same.
Sapana admits that had she not taken the training, she would probably have been working in a low-paying job and struggling for recognition. She recommends such training to everyone willing to make a career for themselves despite their incomplete academic background.